My poetry book
Now Might as Well be Then
, was published by
Finishing Line Press.
I was honored when poet,
Scott Owens,
wrote a review of my book. I was thrilled because Scott is a poet whose work I greatly admire. I have almost all of his books and a CD with his poems.
I am publishing his review here because Amazon is not selling my book anymore and many folks think the book is out of print.
Read the review, please, and if you would like this book, you can order it from me or from Finishing Line Press for $12.00. If you order from the publisher, I do not receive any payment.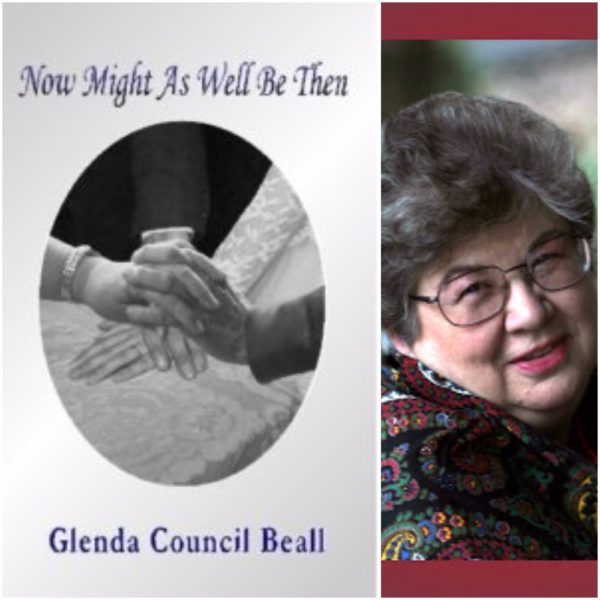 Posted By Scott Owens to
Musings
at 3/10/2010 02:31:00 PM
There are no surprises in Glenda Beall's new book of poems Now Might As Well Be Then. The title gives it all away. These are poems about timelessness, specifically about the timelessness of human experience. There are no surprises, but there is great joy. Not that every poem tells a joyful story. Quite the contrary, some of the best poems here are the most tragic. But even in these poems, there is great poignancy, and in that poignancy the joy of recollecting, of being reminded of how it feels to be human, of having, in fact, those feelings cathartically intensified through the poems.

Beall begins the collection with a love poem that celebrates the timelessness of a relationship. The speaker in the title poems says, "You brought me spring in winter // youth when I was old, / you found my childhood self." If not for the dedication of the poem which announces who is intended by the indefinite second person pronoun, one could easily read this as a celebration of many things--god, nature, the mountains of North Carolina—and interestingly, any of these meanings would fit for the poems that follow as these poems celebrate the presence and influence of all of these elements.

One suspects, in fact, that the relationship between speaker and mate in "Now Might As Well Be Then" is inseparable from that between speaker and place. That suspicion is supported by the next poem, "Mountain Seagull," in which "Lake Chatuge wraps the mountains, / lapping love," and the speaker says "My spirit soars above the scene / a seagull far from home, / But yearning to embrace / and build a nest." Four poems later in "In the Dark," the theme of timelessness in this relationship appears again, as does the title of the collection and the first poem: "Here I am years later, listening to your soft breath / and feeling your warm smooth skin. / In the dark, now might as well be then."

The timelessness Beall reveals to the reader is not the magical, mysterious, miraculous sort of timelessness that remains inexplicable and unearned.
Beall, instead, makes clear in poems like "Woman in the Mirror" that the timelessness she speaks of is fostered through the vital effort of memory: "What happened to those days / I ask the woman in the mirror. / Gone, she says, all gone, unless / you can remember." The final line break of that poem becomes an impressively empowering device, creating both an imperative and a confirmation for the reader to carry into his or her own life.

To show us how this creation of timelessness is to be done, Beall practices her own imperative throughout the poems in this book. She remembers the sound of rain in "Listening for the Rain" and is reminded of her father:
Too late for the corn, my father says,
across the bridge of time.
Maybe it will save the pasture,
give us one more haying
before summer ends.

She goes on, then, to recall other events from her childhood, the tragic story of "Roosevelt" (perhaps my favorite poem in the book), the story of her "Father's Horse," another story of tragic loss in "Clearing New Ground," and finally, the beautiful and touching concluding poem "Blue Moon Every Twenty Years," which successfully reminds the reader of all of Beall's themes by tracing the singing of a particular song every twenty years, the last time when the singer was somewhere around 70 years old and still proclaiming, "I'll sing your song for you again / in twenty years." Just so, these poems will sing to the reader, again and again, reminding us to embrace life through our relationships with people and places and to make those relationships timeless through the vital habit of memory.

--Please leave a comment. It will not appear immediately, but I will read it and respond to it. Thank you.